Teens Page
New Young Adult Fiction
Please click on the books for more information!
We are looking for youths between the ages of 12-19!

Do you have access to a computer and a reliable internet?

If you are interested in learning new skills, open to new opportunities, and have strong communication skills then the Tweed Public Library has an exciting opportunity for you!

We have some virtual volunteer opportunities you may be interested in. All you have to do is simply share a few hours of your time. This program will help you build your resume, collect community service hours for school and help us maintain community connections in new and innovative ways, all from the comfort of your home!

Please click on the links below for a description of the opportunities available-
To get started, please fill out the Youth Virtual Volunteer Application. You can absolutely volunteer in more than one role and at more than one time. Once you have completed your application, we will contact you with instructions on how to submit your projects. Please read the job description for each role to ensure your submissions follow our library guidelines.

We will respond to you as soon as possible. The library is closed Sundays and Mondays, which can delay response if you complete the application on the weekend.

The goal of the program is to help prepare virtual volunteers for their first job(s), as well as to promote local talents, bring enjoyment to library patrons and build positive relationships between youth and our community. We feel that the more responsibility that our virtual volunteers have in successfully completing their tasks, the better prepared you will be when you apply for jobs and enter the workforce. When at all possible, it should be the volunteer themselves to call, email, organize and initiate! Your cooperation is greatly appreciated.

For more information, get in contact with us at-
613-478-1066
tweedpubliclibrary@gmail.com
How do i get my own card?
Anyone 12 years and older can sign up for their own card. A parent or guardian must visit in person to sign a computer/internet permission form if you are 17 and under. Membership is free!
What can i do with my library card?
Borrow cool books, movies and magazines
Download eAudiobooks on your computer or MP3
Access online databases to help you with school projects
Use a computer to surf the net, check email, do research and more!
Browse all library services to learn more about what you can do at your library...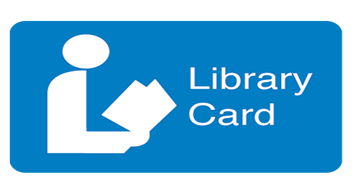 Kids Help Phone
Do you need help right now?
Call the kids help line anytime to speak to a counselor!
Toll-Free: 1-800-668-6868


---
Download E-Books and Audio Books
With millions of checkouts and desktop installations,OverDrive ;provides the leading
ad service for libraries. Our support for PC, Mac®, iPod®, Zune®, Sony® Reader™, nook™, and thousands of other mobile devices makes our library platform the most compatible library download service. We also offer the largest collection of audiobooks, eBooks, music, and video for the library – all available on a single website for browsing, checking out, and downloading.
Use in Library or Outside Library (requires Tweed Public Library card)

Ontario G1 Driving Test Simulator
The official site for the Ministry of Transportation Ontario (MTO) has NO complete G1 sample tests, and only 8 sample test questions. That's not enough to provide you with the practical experience you need. To help you achieve that practice, we have created 11 free practice tests and a G1 Test Simulator. These tests will provide you with experience answering the same types of questions you'll find on the real test: each test is based on the MTO Driver's Handbook, uses the same method of grading, and covers the same driving topics used by the MTO. You'll be ready to breeze through your official exam on the very first try when the big day arrives.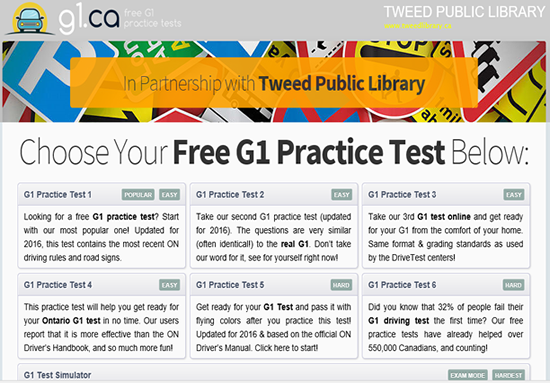 ---
Volunteer at the Library
Volunteer: Ontario Ministry of Education Community Involvement Policy


Every student must complete a minimum of 40 hours of community involvement activities as part of the requirements for an Ontario Secondary School Diploma (OSSD).
---